Help Matching
The objective of the MATCHING analysis is to obtain the best possible combination of machine, mold and part.

At the top we have the MATCHING line which summarizes the steps that we must complete in order to complete our analysis. Once the single step is completed we can go back and forth by clicking on the icons of the MATCHING line. To confirm and validate the single step, you must instead click on the forward icon 'NEXT' at the bottom.
Going forward and backward on the MATCHING line we can correct and vary the values ​​entered in order to vary the results and obtain the best MACHING between machine-mold-part possible. In this way we will see the graph and values ​​produced in the report change in real time, thus you can check the quality of the configuration analyzed. It will be possibile to save all the configurations / variants you want by calmly value how to proceed in the Filling.
It will also be possible to create variants of a project using the "save a copy" function available in the first phase "PRELIMINARY PROJECT DATA". This function duplicates a Matching project already carried out.
The Job Matching that will be purchased or sent to Filling for the analisys will no longer be available in the Matching area but you can consult them in your personal area "My Job"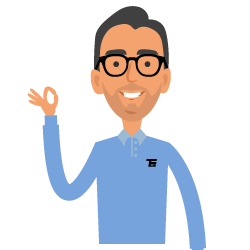 By clicking on the (+) of the search section, you can consult useful tips that will help you in filling in each field